Bittrex Announces Its First Initial Exchange Offering (IEO)
The trend is on. Bittrex, one of the major digital currency exchanges in the market, introduced an IEO on its Bittrex International platform. The RAID IEO is to start on March, 15.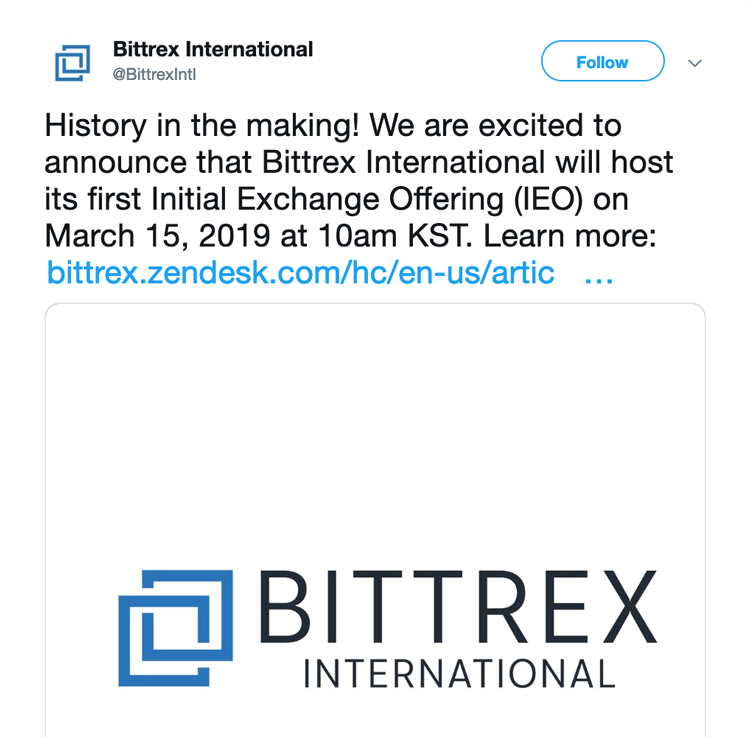 @BittrexIntl on March, 11
Bittrex International
Bittrex International is a Malta-based, 'secure, reliable and advanced digital asset platform' powered by Bittrex. It was introduced on Oct, 29 and went live on Nov, 1st back in 2018. This is its first IEO, held nearly five months after the platform launch.
'We are committed to increasing adoption and moving the blockchain revolution forward. The ability for projects like RAID to innovate, advance, and promote the gaming industry on our platform is a game changer for all involved'
– Bill Shihara, Bittrex International
RAID IEO Details
According to the Whitepaper, RAID and its core partner and gaming analytics provider OP.GG are planning 'to give game data ownership back to users using blockchain technology and the token economy.'
Taesung Kim, one of RAID founders, said that having the company's IEO to be the first of its kind on Bittrex was a 'tremendous honor' and the company viewed that as a vote of confidence in their vision.
The RAID IEO will officially start at 10:00 a.m. KST on Friday, March, 15 and will be finished in three days (March, 18) or when the hardcap is reached.
The token was dubbed XRD, but now the company decided to change its symbol to a 'more intuitive' RAID. RAID (previously XRD) tokens will be issued by ONERAID PTE. LTD, a Singaporean Company.
New customers are welcomed. The IEO hardcap is 17 billion RAID, which amounts to ~$6 mln. For individual accounts, there is a 30,000 RAID (~$10) minimum and a 57 mln RAID (~$20,000) maximum purchase amount. In the IEO, 1 RAID will be offered for 0.00000010 BTC ($0,00039).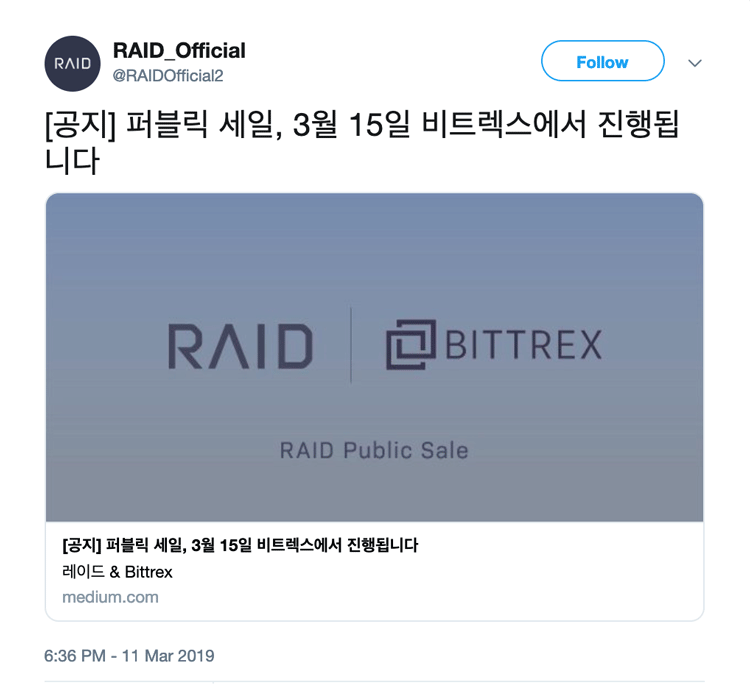 @RAIDOfficial2 on March, 11

The project will allocate 17% of the total token supply during its IEO (proceeding from the hardcap).
'Now our international users have direct access to blockchain projects with the peace of mind that comes from Bittrex International regulated in Malta. We are excited for this IEO and look forward to helping similarly innovative teams connect with users to build their platforms for the future.'
– Bill Shihara, Bittrex International
An IEO Pecularities
Unlike a traditional Initial Coin Offering (ICO) — where the company gets direct contributions from customers, produces its tokens and then distribute them onto the investors' wallets, — an Initial Exchange Offering (IEO) is conducted via cryptocurrency exchanges.
The exchange serves as a platform for the campaign, a 'wallet', and a counter-party. This allows new companies to tap into the user base of the exchange and reach a wider audience, ensure transparency, win more trust from the audience as a 'major exchange approved'-project and (potentially) prevent scams.
The recent much-touted and successful IEO was BitTorrent on Binance Launchpad.
Revise other types of fundraising with Finrazor.
Thank you!
Subscribe to our newsletter